Carol of the Bells
Piano Duet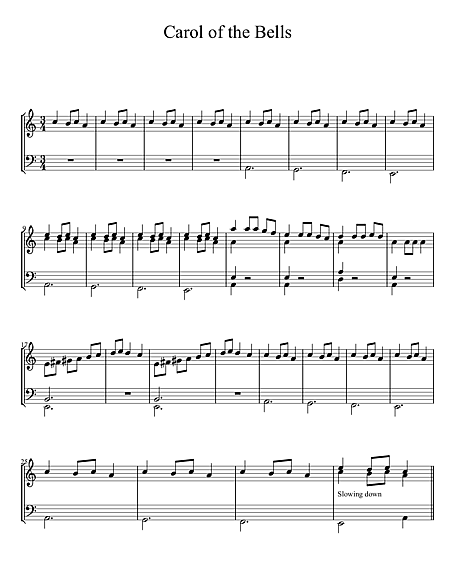 ملحن
Pages
1
Arranger
آلة موسيقية
Type
Difficulty
ترخيص
حجم الملف
18.8 KB
استمع
ترتيب ثنائي بيانو بسيطة من كارول "عيد الميلاد الأوكرانية"، "كارول من أجراس". فيديو مظاهرة تبدأ الساعة 0:50.

youtube.com

Saxophone

youtube.com
عن
A simple piano duet arrangement of the Ukrainian Christmas carol, "Carol of the Bells".
"Shchedryk" is a Ukrainian shchedrivka, or New Year's song, known in English as "The Little Swallow". It was arranged by composer and teacher Mykola Leontovych in 1916, and tells a story of a swallow flying into a household to sing of wealth that will come with the following spring. "Shchedryk" was originally sung on the night of January 13, New Year's Eve in the Julian Calendar, which is Shchedry Vechir. Early performances of the piece were made by students at Kyiv University.
The above text from the Wikipedia article "Shchedryk (song)" text is available under CC BY-SA 3.0.
Other arrangements
---