Bunte Blätter
بيانو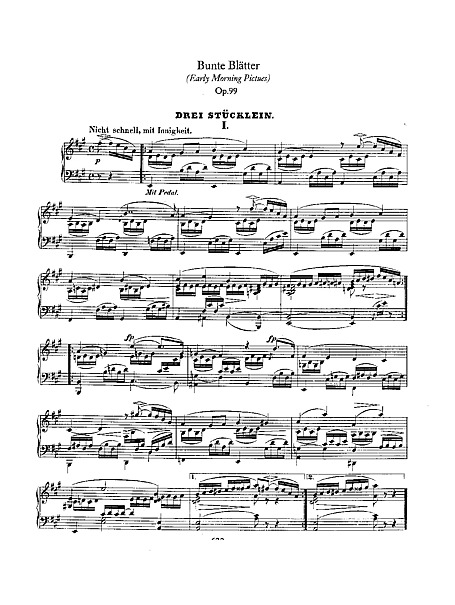 ملحن
رقم العمل الموسيقي
Op. 99
Year composed
1836-49
Pages
34
آلة موسيقية
Difficulty
ترخيص
Uploaded by
حجم الملف
2.09 MB
استمع
Be the first to add a recording or video.
This collection of mostly small piano pieces written during various periods from 1836 to 1849, was not assembled and published until 1852, two years before Schumann suffered a debilitating mental breakdown and entered a mental asylum, where he would die in 1856. Bunte Blätter is a unique collection, containing two small collections within it, as well as six additional separate pieces.
It opens with Stücklein III (Three Small Pieces), the first of which, dating to 1838, is songful and sweet in its lovely melody and sonorous harmonies. Schumann presented the piece to his wife-to-be Clara as a Christmas gift. The next two, from 1839, are each less than a minute: the first is anxious and driven, the latter, nearly as fast, but brimming with joy and sunshine in its prancing, less harried gait.
Following are the five (untitled) Albumblätter (Album-leaves), slightly more substantial efforts, but none longer than two-and-a-half minutes. The opening piece, from 1841, is slow and ponderous, but thematically rich enough to inspire Brahms to write a theme and variations work based on it. It is followed by a breathless, stormy dash (1838), lasting less than a minute. Another slow piece (1836) ensues, this one lyrical and melancholy, and originally designed for Schumann's popular collection Carnaval. An even more melancholy work (1838) follows. Its heartbreaking, almost listless manner was well served by its original title, Pain of Youth. The closing Albumblätter is also slow and sad, but at least shows some sunshine in its less somber musical landscape.
The chipper 1838 Novelette follows, with its jaunty outer sections and swirling, mysterious but light interior. The toccata-like Praeludium is next, filling its minute length with stormy, muscular sonorities and an ominous sense. The ensuing Marsch (1843), at around seven or eight minutes, is the longest piece in the set. It opens gently in its somber manner, lightens up for the Trio, and closes with the same stately seriousness with which it began. Abendmusik (Evening music) follows, a playful, gentle piece suggesting the evening has a little sunlight mixed with its shadows. The ensuing 1841 Scherzo is bright and energetic in its outer sections, while its Trio is just as lively and colorful. Colorful is also the word to describe the closing Geschwindmarsch (Quick march) from 1849. It brims with good-natured menace and quirky energy in its somewhat exotic sonorities.
Free sheet music on other sites
Buy printed editions
We have selected some printed editions we think may be useful.
$18.50
Piano Solo
Edition Peters
Other users also liked
---