Pavane pour une Infante défunte
أوركسترا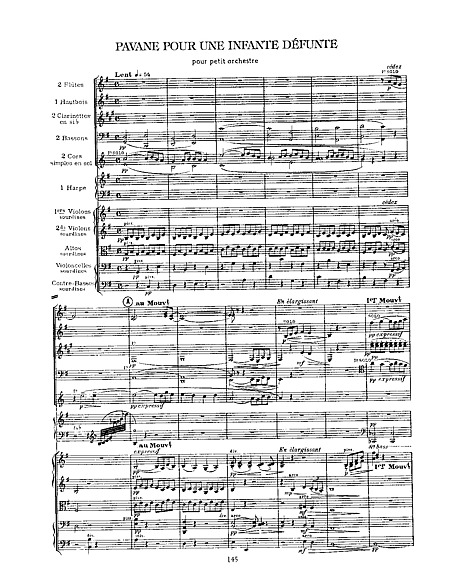 ملحن
رقم العمل الموسيقي
Op. 19
Year composed
1899
Pages
6
آلة موسيقية
Type
ترخيص
Uploaded by
حجم الملف
488 KB
استمع
Be the first to add a recording or video.
عن
Ravel orchestrated the piece in 1910.
Pavane pour une infante défunte is a work for solo piano by Maurice Ravel, written in 1899 while the French composer was studying at the Conservatoire de Paris under Gabriel Fauré. Ravel published an orchestral version in 1910 using two flutes, an oboe, two clarinets, two bassoons, two horns, harp, and strings. The Pavane lasts between six and seven minutes and is considered a masterpiece.
The above text from the Wikipedia article "Pavane pour une infante défunte" text is available under CC BY-SA 3.0.
Other arrangements
Free sheet music on other sites
Buy printed editions
We have selected some printed editions we think may be useful.
Other users also liked
---