Morceaux de Fantaisie
1. Elegy in E-flat minor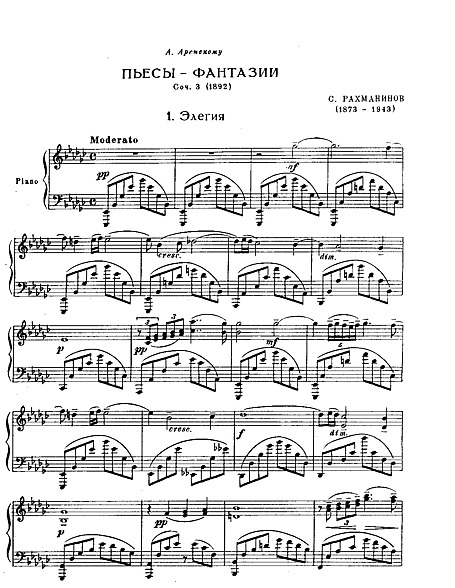 ملحن
رقم العمل الموسيقي
Op. 3
Year composed
1892
Pages
6
آلة موسيقية
Type
ترخيص
Uploaded by
حجم الملف
311 KB
استمع
Be the first to add a recording or video.
عن
Elegy (Элегия, Elegiya) is a musical elegy at moderato tempo.
Morceaux de fantaisie, Op. 3, is a set of five piano solo pieces composed by Sergei Rachmaninoff in 1892. The title reflects the pieces' imagery rather than their musical form, as none are actual fantasies. The set was dedicated to Anton Arensky, his harmony teacher at the Conservatory.
The above text from the Wikipedia article "Morceaux de fantaisie" text is available under CC BY-SA 3.0.
Other arrangements
Free sheet music on other sites
Other users also liked
---